Care4Today App
Circle of Care is excited to launch our new app Care 4 Today Monitor.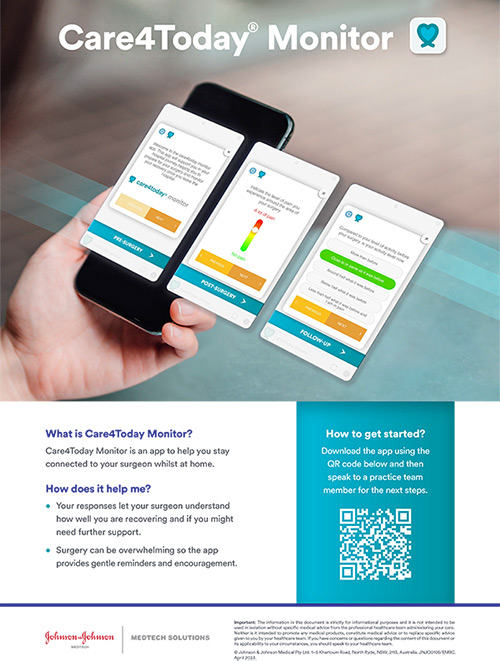 Circle of Care is excited to launch our new app Care 4 Today Monitor, helping you stay connected to your clinic whilst recovering from your bariatric surgery.
Care 4 Today Monitor gently prompts you to keep in touch with your surgeon at essential times during your recovery. The clinic can monitor you through their dashboard to improve patient care and outcomes.
Circle of Care is proudly in its 20th year of helping patients achieve their eight loss goals and Monitor is a wonderful addition to only add to our patient care model.
The monitor app is exclusively available at our clinic as part of our program. To get more information or book in with one of our weight loss surgeons, please contact us on or email nsw@circleofcare.com.au.
Care4Today App
Click here for more information.
Circle of Care is excited to introduce an Australian first in the bariatric setting, Care4Today Education app to help guide you through your weight loss surgery journey. Exclusively available to Circle of Care patients.
As an industry leader we are thrilled to have worked with Johnson and Johnson on this fantastic resource for our patients. Care4Today will be a game changer in the weight loss surgery setting, allowing patients to have access to vital Circle of Care Program information at their fingertips.
To find out more information about how Circle of Care can help you, please click the following link to lodge an online enquiry and one of our friendly team will be in touch as soon as possible.