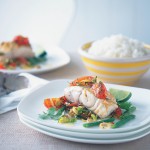 Preparation time:
15 minutes
Cooking time:
15 minutes
Serving size:
4
1 teaspoon sesame oil
4 spring onions (scallions), sliced
1 garlic clove, crushed
1 teaspoon chopped chilli
1 tablespoon chopped mint
3 lemon grass stems, white part only, thinly sliced
4 makrut (kaffir lime) leaves, thinly sliced
4 fish steaks or fillets
2 tablespoons lime juice
1 teaspoon grated palm sugar (jaggery) or soft brown sugar
2 teaspoons fish sauce
2 ripe tomatoes, cut into eights
2 large handfuls coriander (cilantro) leaves
Heat the oil in a wok or heavy-based frying pan and cook the onions, garlic, chilli, mint, lemon grass and lime leaves over low heat for 2-3 minutes.
Add the fish and cook for 5-7 minutes, turning once. Remove the fish and set aside, covered, to keep warm.
Add the lime juice, palm sugar, fish sauce and tomatoes to the wok or pan and cook for 3-4 minutes, until the tomatoes are heated through but are not mushy. Spoon over the fish and sprinkle with coriander.
Any white-fleshed fish is suitable for this quick and easy recipe. The cooking time of the fish will depend on the thickness of the fillet, so watch carefully so you don't overcook it. Serve with steamed rice and steamed snake (yard-long) beans.
Recipe courtesy of Rosemary Stanton from Healthy Eating for Australian Families